Sadly we lost our big black boy. After he started rapidly going down hill, we took him to the vets. There they ran multiple tests and had him on IVs for fluids. Once they had done all they could, he came home with the hopes that he had turned a corner and would start to improve. For a few days it looked like he was and then he took a turn for the worst and the decision was made to end his suffering.
We strongly believe that it was cancer that caused Codie`s rapid decline.
Rest well Codie (Multi.Group placer GCH Hausmekon`s Flag of Honor OFA Hips/Elbow, our black escape artist, no fence or crate could hold him if he did not want to be there. In fact he escaped out of a friend's yard just weeks before becoming ill. You exceeded our expectations and left an indelible mark on our breeding program. You will be greatly missed.
His long coat son, Multi Best of Breed winner, Grand Champion, Best Opposite Maturity/Futurity winner Chilco's The Fuzz of Sunflower is making us very proud. And will soon step into your role as Stud Dog here at Sunflower/Chilco Kennels.
We look ahead and forward to the future with Codie Grand kids just getting ready to enter the rings.
Above is Codie in August 2012 finishing his Championship (naked). A big thank you to Tammy Sawatzky for handling our boy and finishing him in two weekends!

Codie is now a Grand Champion and a multi Best of Breed Winner!

Codie went Group 3rd at NACA 2014! to finish his Grand Championship!!! Codie is handled by Tammy Sawatzky and Richelle Nelson-Turbar Aussies.

Below are some candid shots of Codie in the ring.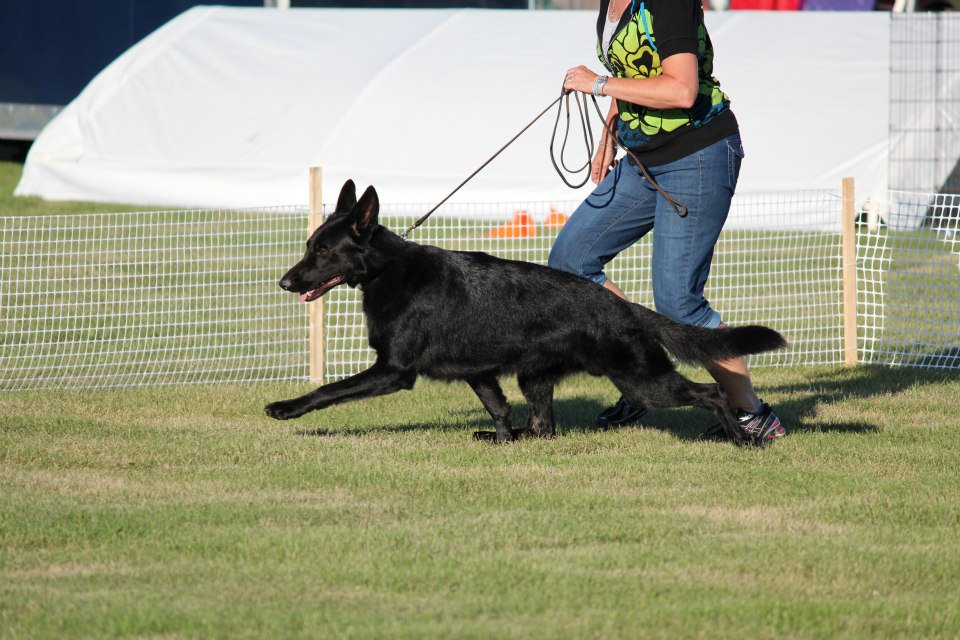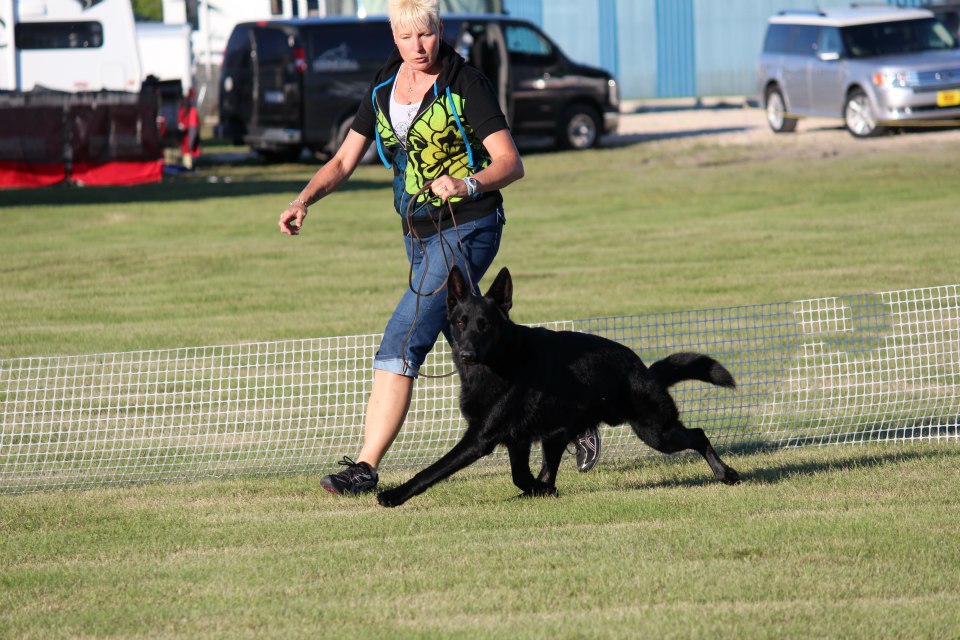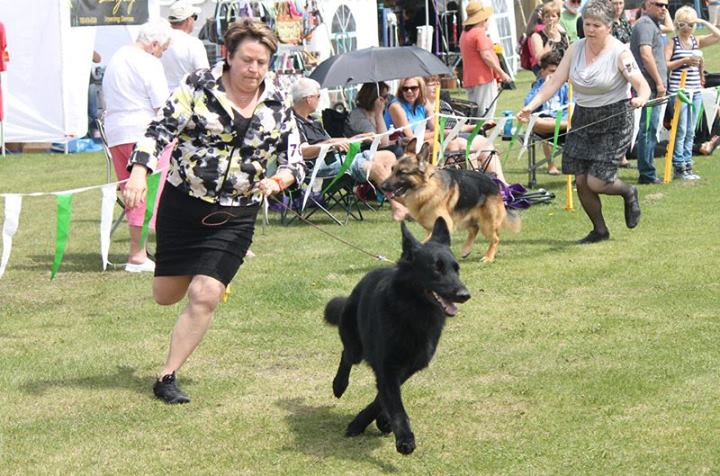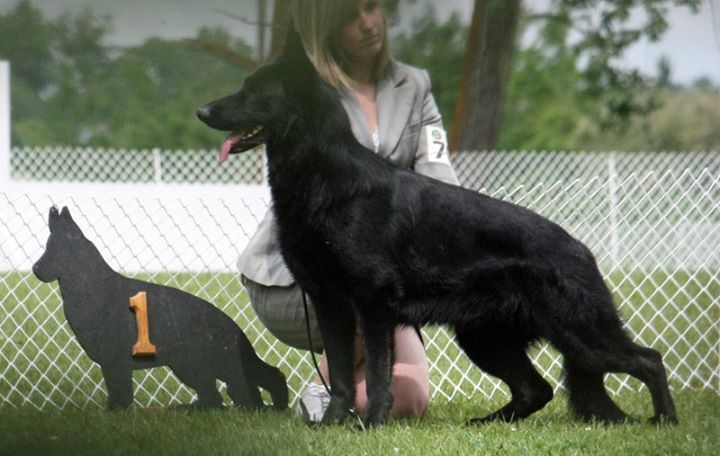 Codie going Reserve Winners Dog at the NLPRGSDC.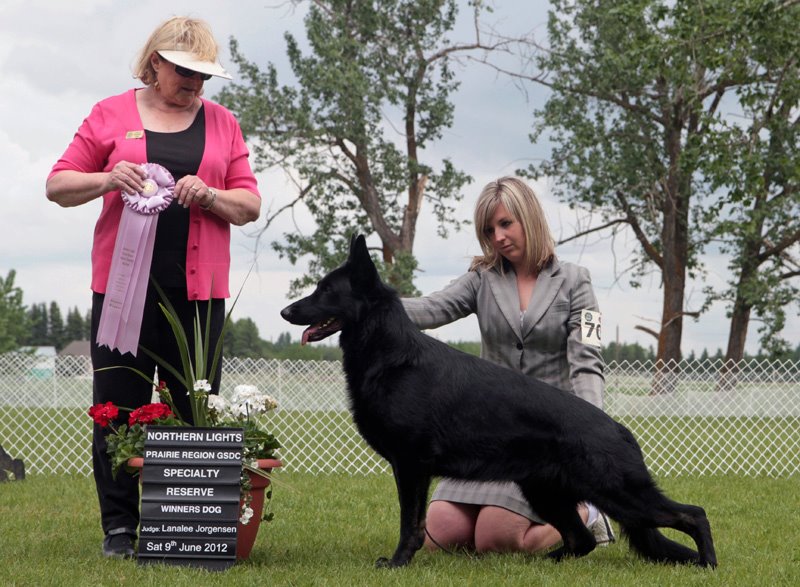 "Codie" is a medium size black male with sound temperment, a floating gait, dark eyes, 
strong ears, level back and good bone. 

"Codie" is a sweetheart to live with, we get many comments on his outstanding temperament.

Our black boy  is co-owned with his breeder Anja H. Stroud, myself and my cousin Debbie Stainton

Codie is a Canadian Grand Champion, Multiple Group Placer, OFA certified -  GS-86880E29M-VPI  GS-EL27512M29-VPI
Codie is also barium x-rayed normal

**Click HERE to view Codie's Pedigree**
Codie has sired several litters and some of his offspring include:
GCh.Sunflower's PrettyInPink Frost
Ch.Sunflower's Song of The South
Ch.Sunflower's Expressmail Chilco (3rd place Maturity/Futurity teenage female)
UKC Ch.Sunflower's Hi Jacker at Shylo
BOM/BOF Chilco's The Fuzz of Sunflower (Champion pointed)
RMF/RFF Chilco's Ladybug of Sunflower
RFF Imprintz Heaven N Headlights
BPIG Sunflower's The Beachcomber
Sunflower's Criminal Informant (Champion pointed)
And his first Champion granddaughter! (a GCh.Molly daughter)
Ch.Chilco's Eclipse of Sunflower (GCh.pt'd)
Below is a photo of Codie at 5 years of age.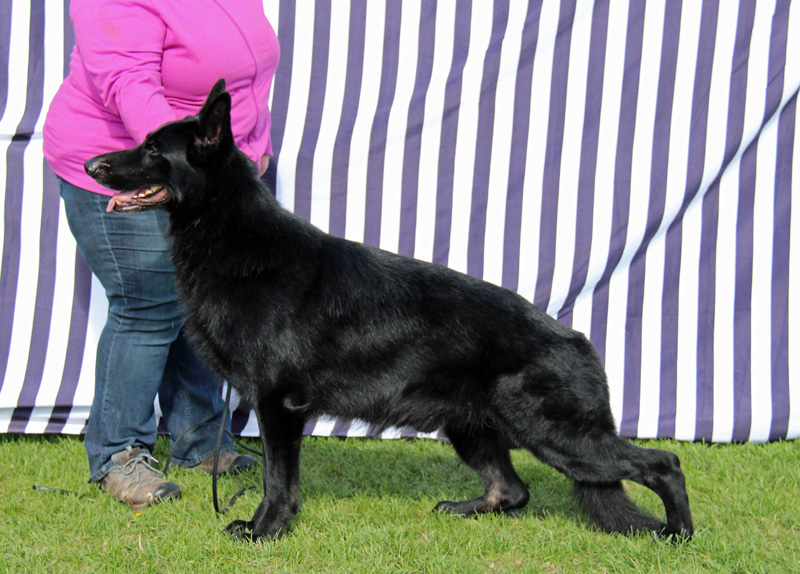 Below are some pictures of Codie in his training practices.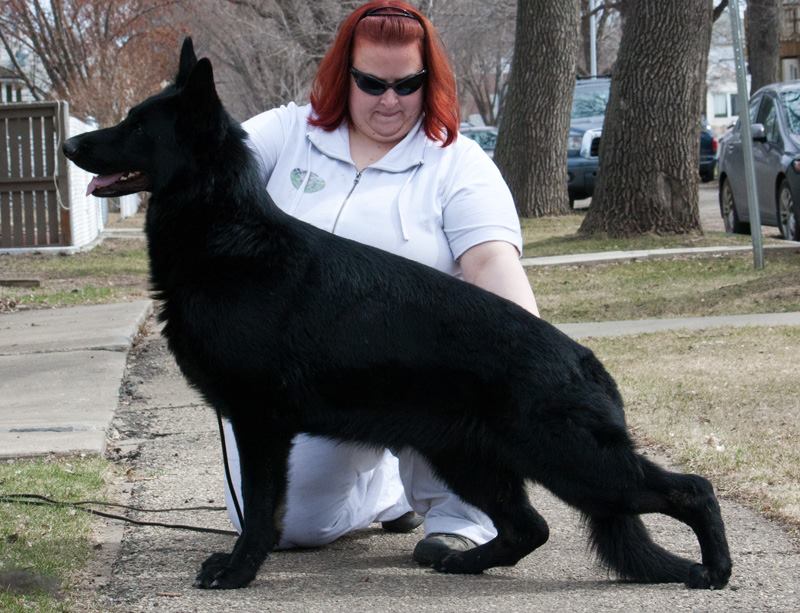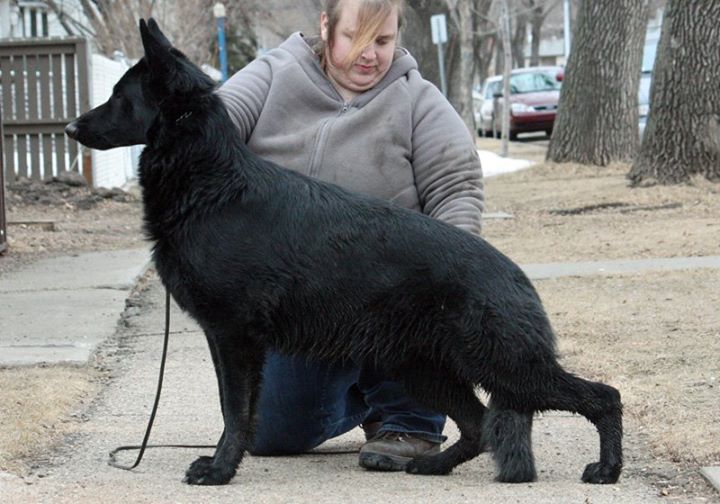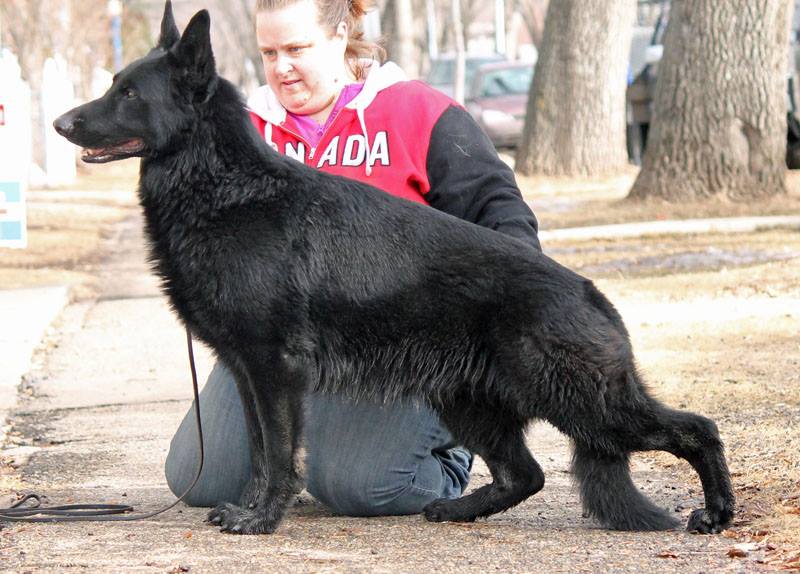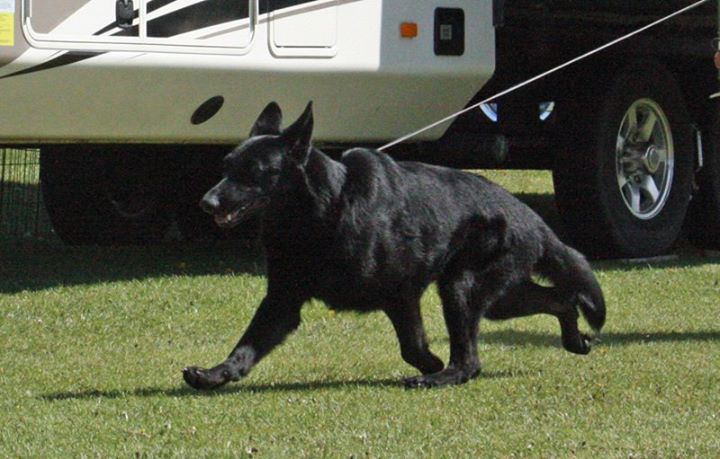 Thank you honey for the great head shot of our boy, taken January 16, 2013.
Pictured above is hubby John with "Cali" and "Codie" on our way home from the Canadian National in Vancouver BC, Sept. 2011